Over the past few years we have seen the growing popularity of serviced apartments as an alternative to hotel accommodation, especially for guests looking for an extended stay.
These are fully furnished apartments that provide hotel-like resources such as housekeeping, room service, fitness centres, and restaurants. They have home comforts such as a personal kitchenette, a living room and a dining room. Serviced apartments, unlike hotel rooms, bear close resemblance to apartment-style living and are therefore preferred by guests who want a homely feel or who travel as families.
Nairobi's hospitality sector has seen an increase in development of serviced apartments with supply increasing with a 23.6% CAGR (compound annual growth rate) between 2011 and 2015 to 3,414 apartments from 1,462 apartments in 2011.
In terms of distribution in the Nairobi Metropolitan Area, Westlands and Kilimani have the highest supply of serviced apartments at 36.0% and 28.0%, respectively of the total developments, attributed to their close proximity to commercial nodes and the expatriate community who constitute the majority of serviced apartments' clientele.
On the other hand, locations within the Thika Road node, namely Muthaiga North, Mirema and Garden Estate have the least supply, with a market share of only 2.0%, as they are predominantly residential areas located approximately 15-km Nairobi's commercial zone, in addition to not being mapped within the UN Blue Zone, thus not preferred by expatriates.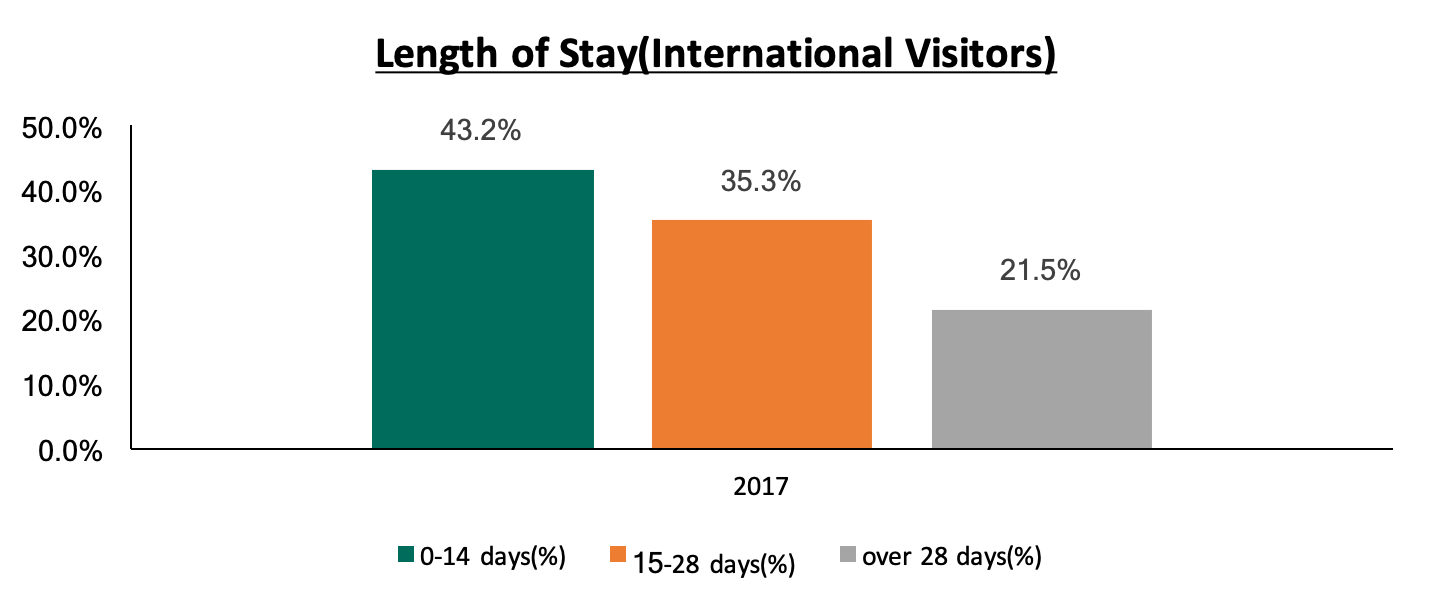 The concept of serviced apartments has continued to become increasingly popular in the market. Investment in serviced apartments has been fueled by:
The Higher Demand – As firms aim to optimize their travel budgets, more travelers are choosing to stay at serviced apartments as they are less expensive in the long-run, resulting in the high demand and thus high occupancy rates .
Lower Operating Expenses as Compared to Hotels – Operating serviced apartments requires less number of staff and lower ancillary costs for amenities and foodstuffs, and are thus cheaper to run.
Convertibility – Serviced apartments can be easily converted to normal apartments, in the case where the former is not performing well.
Relatively Longer Tenancy Compared to Hotels – The clientele for serviced apartments are mainly on long-term stays as compared to those who prefer hotel rooms, and thus the guarantee of a more stable income.
In addition to the growth in supply, the demand for serviced apartments has continued to increase evidenced by the 8.0% points increase in occupancy levels in 2018 to an average of 80.0%, from 72.0% in 2017, supported by benefits that come with the theme such as:
Bigger Spaces Compared to Hotels – Serviced apartments often have bigger room sizes than hotels. For instance, in Nairobi, while the standard hotel room size is 30-50 SQM, the average size of serviced apartments is 75 SQM for 1-bedroom units, 110 SQM for 2-bedroom units, and 140 SQM for 3-bedroom units,
Lower Rates – Serviced apartments are considered more affordable given their relatively lower charges compared to hotels. For instance, a standard 3-star hotel in Nairobi charges on average Kshs 14,000 per night for a suite, while a studio serviced apartments charges on average Kshs 8,000 per night and a 1-bedroom apartment charges on average Kshs 11,000 per night,
Home Away from Home Feel – Unlike a hotel, a serviced apartment can easily accommodate a family, in addition to allowing someone to cook and hence creating the home away from home experience that is sought after by many long-term travelers, and,
Easy Integration– Serviced apartments are located within or in close proximity to other residential developments, hence guests are able to integrate with the community.
Challenges facing Serviced Apartments
Despite the growing popularity of serviced apartments, the main challenge facing the theme is competition from well-known international hotel brands such as Movenpick, Kempinski and Park-Inn by Radisson that are preferred for accommodation by visitors given their track record on service excellence,
Going forward, serviced apartments are also likely to compete with the growing Airbnb( Air-bed and breakfast) accommodation, which is found to be even more affordable and is increasingly attracting the millennial generation.
Managers of serviced apartments will therefore have to set themselves apart through strategies such as hiring of professional personnel, providing extra amenities, and better security mechanisms compared to Airbnb.
SUPPLY and Distribution of Serviced Apartments in the Nairobi Metropolitan Area